If you have ever lived with, or even just met a cat, then you already know that these furry pals may be hard to read. Unlike dogs, cat don't wear their every emotion on their sleeves; however, they do wear them on their face and tail; you just have to know how to interpret it. Read on to discover what your cat is trying to say, it may just save you from getting an annoyed swat or a nasty nip from your feline friend.
Tell Tail Signs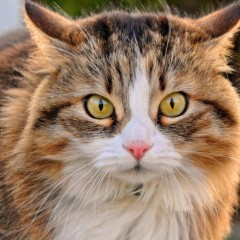 One of the best ways to tell what your cat is thinking and feeling is to watch its tail – it's more than just for balance!
Unlike dogs if your cat is "wagging" its tail (swishing it back and forth) this is not a happy-to-see-you gesture, but rather your cat is feeling agitated. If its tail is thumping, watch your approach or you may end up with a swipe. However, if your feline friend's tail is gently moving back and forth, this is telling you that he is thinking about how to approach the situation.
When your cat is in a happy or playful mood, it will exhibit a "cane tail" – the tail is straight up and curled at the end. But watch out, cause if that tail dips and becomes low, this is saying, "I'm nervous or scared…proceed with caution."
Lastly, the infamous 'halloween cat.' We have all seen pictures, if not our own cats, in this arched back, puffed-out stance. This cat is scared and trying to appear bigger than it actually is. This scaredy-cat will usually walk sideways on its tip-toes, as well. Kittens will slip into the halloween cat stance at the least little fright. They do look really cute and are hard to resist when they are trying to be "tough."
Purring and Other Sounds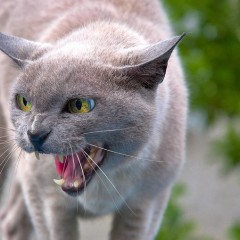 We have all been told that when a cat purrs it means it's happy, but this isn't always the case. Cats that quietly purr, slink low, try to hide or even drool may be telling you it doesn't feel well or is in pain. Check your cat over for possible signs of illness and if it continues, you may have to seek the help of your veterinarian to diagnose the cause of this behaviour..
Other sounds a cat may make is "chirping" or "bawking." This is usually accompanied by your cat hunting or focussing its attention on "the kill." My indoor cats will "hunt" birds or bugs as they fly by the window. They are usually low and sometimes will hold their eyes flat against their heads while peeking over the windowsill.
Keep Your Eyes on the Ears
A cat's ears are more than just keen hearing, they can actually tell you a whole lot about what is going on inside of their little brains. Read on to learn what those ears are really saying.
Happy cats wear their ears straight up or even straight up and turn slightly. This is a good time to engage them in play or perhaps a cuddle. However, watch if those ears turn back or sideways. This cat is telling you it is getting ticked off and has had enough.
Anyone that has dealt with cats know that if this animal's ears are flat against its head, it is in an angry mood, very frightened or in severe pain/distress. This cat will most likely be in a low or crouched position, or perhaps even trying to get away or hide. It is best to let this cat cool down and relax before you try to approach it.
A Cat's Eyes are a Window to Its Mood
Another way to read your cat's mood is to pay attention to its eyes, in particular, its pupils. In normal light your cat's pupils should not be dilated (big and black), if they are this means your cat could be feeling surprised or stimulated. You may notice this type of eye when your cat is in hunting-mode and really focussed on the prize. On the other hand, if your cat's pupils are constricted (in normal light) it may be feeling a tad tense or even aggressive, so proceed with caution. In addition, when your cat stares into your eyes without blinking, this could be viewed as a challenge.
When cats are ready for a nap and are relaxed you can look at their face and see droopy eyelids. This cat is getting ready to fall asleep and is in no way feeling tense. If you can grab your pet's attention when she is in this state you may get a slow blink – this is when the cat will slowly close and open its eyes while looking at you – this means your cat trusts you and is comfortable in your presence. You can also do this back to your cat and let them know, in their own language, that you feel the same.
Even though cats may not be as forthcoming as dogs when it comes to their emotions, working at knowing what they are thinking and feeling is a good way to get to know your feline friend. Watch their tails, ears and eyes to find out what they are trying to tell you and enjoy learning how to speak cat.