I`m not sure any other animal on the planet has as many myths swirling around it as our feline friends do. Some of these myths have been around for ages and over time have only gained strength in their validity. However, some of these tall-tales are just plain silly and can be potentially harmful to cats. Let`s explore some of the most common myths that cats have to deal with.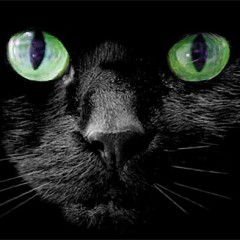 Black Cats Are Bad Luck
This is my biggest cat-peeve and has been the cause of many black felines being abused and abandoned in the streets and in animal shelters across the map. This myth started back in historical times when stray cats were often taken in by lonely old women, some of these cats were even black. Unfortunately, many of these women were accused of being witches and the cats got pulled along by association. After time went on and coincidences occurred with these "witches" and their black strays, people bought into the notion that all black cats were bad luck. This is as ridiculous as thinking that every old woman is a witch.
Cats Always Land on their Feet
This old adage is only partially a myth. Cats don't have any collarbones and their spines are very flexible, so they can mostly right themselves in midair to land on all fours. However, I have witnessed my older cats and heavier cats not always making the land. In addition, if the fall is from an extreme height, landing on their feet doesn't necessarily mean they won't be injured.
Cat's Suck the Breath from Infants
This is one of the more ridiculous myths I have ever heard and it is still around today – usually being perpetrated by people who have never owned a cat and want to find fault with the species. Yes, we can agree that cats are attracted to the warmth of a body and if you have an infant, this may very well be the person they choose to sleep against. But sucking their breath away? I can only assume that back in historical times, when crib deaths were more likely, that perhaps the cat was in the crib at the time and they ended up being the criminal by association.
Cat's Have Nine Lives
Cat's have ONE life, just like the rest of us. This was probably another myth that got started way back then. Since cats can land on their feet and are more stealthy, quicker and sometimes smarter than the average pet, they do seem to be able to "walk away" from potentially deadly situations; however, injury and sickness are the same for cats as for any other animal.
Cat's Are Aloof
Cats are by nature an independant animal that lives a solitary life. It is not a packing animal, like the canine species, but I have had cats that are very social and enjoy the company of their fellow felines and their human caretakers. Sure, you have to work a bit harder to get a cat's attention, but when you do it is a treat and a reward for your efforts. I'm a firm believer that you get out of an animal what you put into it. If you treat a cat like it is a solitary member of the household, chances are that is exactly what you will get back. I have always treated my cats like furry children, so in turn they respond with love and attention.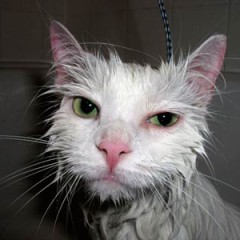 All Cats Hate Water
I would agree that most cats do not enjoy being submerged into water; however, cats are still curious animals and have been known to play in dripping faucets, ponds and even their own water dishes. In fact, the Siamese (among other breeds) will often join their owners in the shower. To say that ALL cats hate water is simply not true. Each cat is an individual like we humans are- not every human likes to swim and not every cat enjoys having a bath.
Milk is Good for Cats
On farms many of the barn cats were given milk directly from the cow. This was a way to help feed a work animal that was there to catch vermin and not as a pet. However, feeding your cat milk will most likely give it stomach problems that will lead to diarrhea. Cats don't need milk and it offers no nutritional value to their diet. If you want to give your cat a milk-like treat, there are products available at pet stores that resemble milk, but don't include the harmful lactose that real milk does.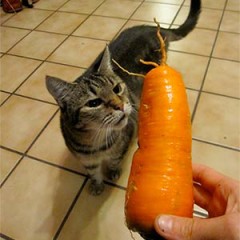 Cats Can Live on Veggies
Cats are not rabbits. Cats are carnivores and need a protein-based diet to live a healthy life. To force a cat to live on purely vegetation will lead to a sick and undernourished animal. If you are a vegan or vegetarian, please know that cats cannot thrive on vegetables. If this bothers you, than perhaps a rabbit would be a better pet of choice.
Cats Only Need Dry Kibble
Having a cat (like any other pet) is a responsibility and this includes feeding them the best food possible. Dry food can only provide so much and most of these are loaded with fillers like corn and wheat. Again, cats are carnivores and need meat. To give your cat a well-rounded diet read your cat food labels. Dry foods should have a meat source listed as number one. If it says chicken meal, this again is a filler and not a pure protein. This type of food is usually an inexpensive brand found in box retailers and grocery stores. If you want the best for your cat ask your veterinarian for recommended cat food brands. Also, I have always added a good quality canned cat food to my felines' meals. This gives them an added protein, moisture and other nutrients not available in dry kibble.
Even if you don't own a cat or even want to own one, knowing the truth about these wonderful animals is something we should all strive to do. These myths have been around for too long and are only hurting our feline friends. Let's set the record straight once and for all.