They are adorable and fluffy and we want to make them a part of our family, yet when they insist on clawing the furniture, their cuteness can wear thin.  Kittens and cats are known for using their claws, it's just part of their nature.  However, there are ways we can keep cats happy without turning our sofas and chairs into torn-up messes.  Check out my top tips on stopping a cat from clawing your furniture.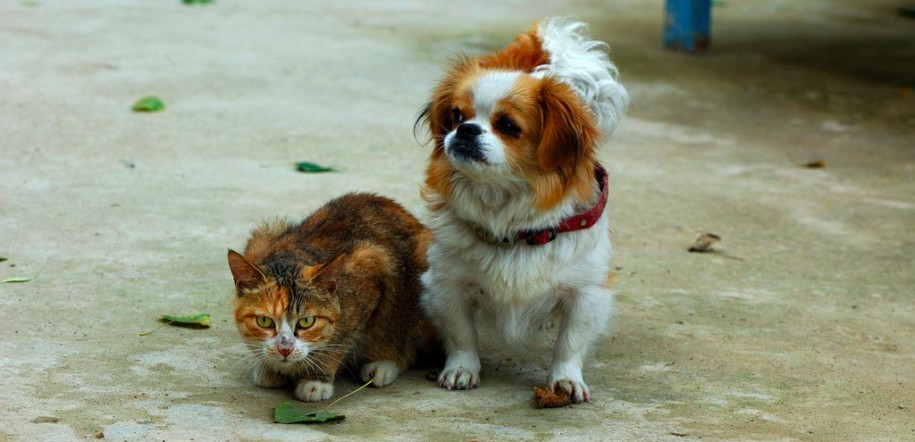 Why Cats Scratch
Before I go into preventions, lets discuss why cats use their claws – it isn't to tick you off – clawing for a cat is a way to mark its territory.  Cats have scent glands in their feet, just like their larger cousins in the jungles.  Lions, tigers and other wild breeds use their claws as a way to show other cats this is my territory.  When you bring a domesticated cat into your house, it will automatically want to make its territory – it's simply part of their genetic makeup.
Another reason cats scratch is for exercise.  If you notice, your cat will most likely stretch up to scratch (this is why furniture and walls are usually a cat's target).  This motion stretches the muscles and the spine, giving your cat a state of well-being.  It also helps sharpen the nails and keeps them clean and in top shape.
The Scratching Post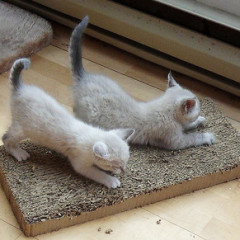 The most logical way to prevent your new kitten or cat from clawing your furniture is to provide it with a scratch post.  However, not all posts are created equally.  They come in all shapes and sizes and can be covered in various materials.  Take it from me, the closer to nature you can get with the post the better.  I have used every post material on the market and all of my cats prefer the rough texture over a smooth carpet.  Sisel works wonders and will stand up to the tough clawing action of both kittens and adults.  Try to avoid carpet-covered posts that are smooth, they simply won't use it and will more likely go for your walls or furniture.  If you have a post like this, try stripping the carpet off of it down to the bare wood.  I did this with one of my posts and it is by far the favorite in the house, even over the sisel.
Another thing to consider with a scratch post is the height.  Cats like to reach up and claw, so be sure it will be tall enough to support, not only the height of an adult cat, but also its weight.  Tipping or falling posts can scare a cat into not wanting to go near it ever again, so make sure the base is sturdy enough to handle rough play.
If your cat or kitten is reluctant to use the post, try using a catnip spray along the post to entice your feline friend.  Then take its paws and run them down the length of the post.  Sometimes your new kitten just needs to be shown how it works.
Carpet-Clawers
Over the many years I have owned cats, very few of them ever wanted to stretch the carpet; however, it does happen. If your cat is a carpet-clawer, there are products on the market to solve this problem.  You can also buy carpet remnants that are fairly inexpensive so your cat has its very own area to rip up instead of your expensive rugs.  As with a post, be sure to place this carpet where your cat is clawing, at least until it gets the idea that this is his carpet.  I have used inexpensive yoga mats cut into smaller sizes.  My cats love the texture and yoga mats are fall less expensive than replacing your wall-to-wall.
The Deterrents
So you've tried everything and your cat still insists on going for your furniture?  Then it's time to bring in some deterrents.  Unfortunately, I've had to use these with some of my more stubborn felines and for the most part, they do work.
The Spray-Bottle:  Most cats hate water.  This fact can play in your favor, but you have to catch them in the act for it to be effective.  When your cat goes to the "forbidden zone" grab the bottle and give them a quick spray.  Be sure to use a stern "no" as well.  This stops the behavior immediately; however, they may come back to it when you're not looking or when they figure they can get away with it.  Cats can be stubborn, so you are going to need some patience for this to work.  You can also add a small amount of vinegar to the water or about a cap-full each of eucalyptus oil and orange oil.  These smells are repulsive to a feline, so it will help in the process.
Nail Trimming: It's important to keep your cat's nails trim.  By taking the sharp points off of the claw itself, it will help save your walls and furniture.  This should become a regular practice, especially for indoor cats. Long nails can grow into pads and become painful and even infected, so keep them trimmed!
Aluminum Wrap:  Yes!  It's not just for cooking.  I've had to resort to aluminum wrap on one of my doorways.  My cat insisted this was where he needed to scratch, so I covered it up with aluminum wrap.  It didn't look pretty by any means, but he stopped scratching it.  Along this idea, are plastic covers that can be found or made to fit over doorways.  Once the area becomes unsatisfactory, your feline friend will usually move on.  If possible, put a sisel-covered post or hanging scratcher from this area to help with the transition.
Declawing:  I would NEVER recommend declawing a cat, but I include it here only as an educational tool.  Declawing a cat creates a tremendous amount of pain and discomfort for your pet.  There is also a huge risk of infection and permanent damage to the cats paws and legs.  In addition, without their claws, the cat usually will resort to biting.  The procedure itself is also not as simple as just removing the claw, as the claw goes deeper inside the paw.  To do this, the veterinarian must remove the upper half of the cat's toe along with the claw.
Living happily with a cat can be possible.  Be patient and know it's a learning process for both you and your furry pal.  If you love your furniture or home so much that you can't bear the thought of having it clawed, then perhaps a cat may not be the best pet for you.  Think carefully before you bring any animal into your home and weigh the options.  This not only saves you the heartbreak and hassle of having an unwanted animal, but the animal will be happier, too.