10 Common Myths About Dogs Debunked
1. When a dog wags its tail, it's happy!
A dog's tail is an important tool for communication, but wagging it doesn't always mean they are happy. Apparently there's a lot of science behind tail wagging and dogs are better at deciphering the code than we are. Yes, it can signal that the dog is happy, but it can also mean that it is agitated or annoyed. For a better interpretation of what's going on you should look at the dog's whole body for things like tense muscles and pinned back ears (not good). So what do you do when you run across a dog without a tail? Proceed with caution!
2. A wet nose means a healthy dog

Yes, most dogs do have wet noses, but a dry nose doesn't necessarily mean that it's sick. You have to take other clues into consideration like abnormal behaviors, the color and texture of the nose, etc. OK, I don't know the "normal" texture of my dog's nose either, but you get the idea. A better way to judge illness is by taking the dog's temperature.
3. Dogs and cats don't mix
Certain breeds are more prone to dislike cats, like Jack Russell Terriers. But there are many tales of dogs and cats getting along just fine. But dogs are, after all, predators and a cat is just about the right size for an easy meal. But for the most part, it's simply a matter of a failure to communicate. Dogs and cats have completely different ways of communicating, kind of like people who speak different languages. Unfortunately, dogs and cats can't speak, so learning a new language with CDs is kind of out of the question.
4. Dogs are color blind
Just because your Yorkie doesn't seem as excited as you are about that new sweater, it doesn't mean that it's color blind. Maybe it just doesn't like plaid. The real truth is that dogs are only partially color blind. They are not able to distinguish all the colors we can because they are missing the ability to perceive reds.
5. You can't teach an old dog new tricks 
I'm pretty sure this one is mostly about people, not dogs. I guess it makes it a little more catchy than "You can't teach an old person new tricks." You can teach old dogs, and old people, all the new tricks you want. As long as they are mentally capable, both species typically enjoy learning new skills.
6. Dogs are naturally a good judge of character 
I know we all like to think that when Rex growls at Uncle Marty it's because we know, and Rex knows, that Marty has always been a kind of seedy character. But the truth is that when a dog reacts with what we consider fear or anxiety around someone, it can be anything from a particular physical attribute to the proximity of the person that's causing the reaction.
7. Dogs eat grass when they are sick

Dogs are descendents of wolves and wolves typically ate all parts of their prey. This included the stomach contents which often consisted of vegetation and grass and other things I just don't want to think about. It's now commonly accepted that eating small amounts of grass is normal for a dog so there's no need to be alarmed.
8. A dog's mouth is cleaner than a human's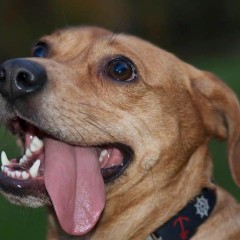 Really? Do you even watch what your dog does with its mouth? A dog will happily eat things I can't even identify! Even if it were true, is that really something to boast about, a cleaner mouth than a human? This myth probably comes from a dog's habit of frequently licking people's hands and faces with no apparent health hazards.
9. Dogs eat rocks, lick concrete or eat stools of other animals because of nutrient deficiencies
Here we go again. Dogs do some pretty strange stuff and their eating habits can be the strangest of all. Most experts would profess that they don't really have a clue as to why a dog would lick concrete or eat rocks. They just do. I'm pretty sure a dog doesn't have a poop deficiency, so I guess we will just have to keep wondering.
10. Dogs age 7 years for each human year
This myth probably came from observing that a puppy develops at a much faster rate than a baby and then they're all grown up. Turns out it is good to know how a dog ages compared to humans though, so we can have better insight into their health and how to care for them. Current research shows that my 2 year old Yorkie is actually 21. It makes sense really. He still lives at home, doesn't have a job and leaves his plaid sweaters laying all over the house.