Some people can have a dog and it works out great. But often it seems like one dog just isn't enough! We work too much so Fluffy is lonely, we just couldn't leave that litter-mate behind, they were going to put that sweet puppy to sleep at the shelter, or other family members wanted their own dogs when they saw how much fun you had with yours! Owning several dogs can be fun or just plain nerve-wracking. How things work out depends on the personalities of everyone involved, the training you are willing to do, the amount of space you have, and the time you have to devote to the pets.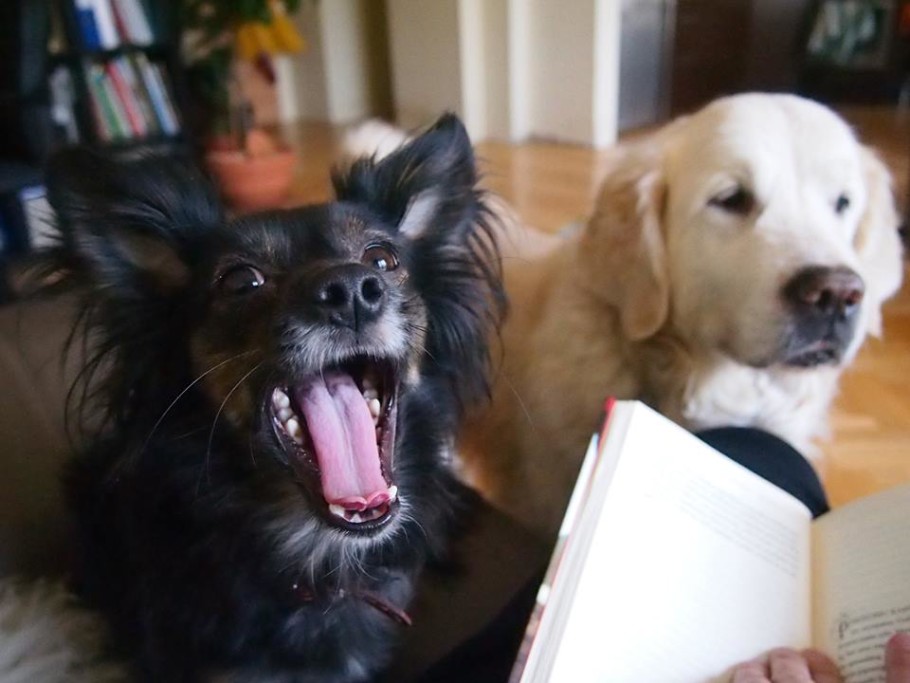 First, think about your current dog before getting another. If that dog is old and cranky he may not appreciate a new rival. Plus, you will have to spend time introducing the dogs to each other slowly in addition to spending just as much time playing with and training each new dog as you did with the original. If you are gone too much or live in an apartment, it might not be a good idea to gather more furry friends. They will just destroy your home while you're away!
Dogs that live together have things in common with human siblings. There is competition for the owner/parent's attention, the best places in the house/yard, the most food, the nicest toys, and the best treats. Some 'siblings' do not like each other, and some challenge the owners' authority just like some teens butt heads with their parents! Also like children, dogs tend to get rowdy when they play together and this can result in scuffles and hurt feelings. Training the dogs and making sure there are enough good things to go around will go a long way in making life peaceful.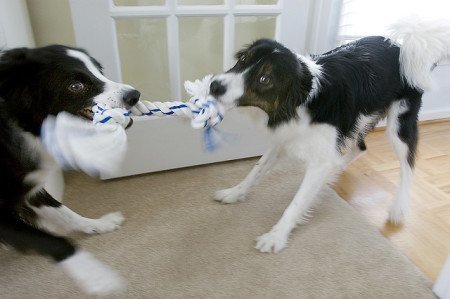 As the head honcho, an owner of multiple dogs must call the shots or there will be chaos. Each dog must be taught manners. They should only get attention, food, toys, treats, walks, and playtime when they mind you and treat each other well! If you call them by name, they should focus all their attention on you. They should sit and stay until told they can get up (unless their joints hurt, in which case they may stand). They should also be taught to drop anything that you don't want them to have. Dogs that do these things are rewarded with treats, praise, and petting. Dogs that do not get the coveted item taken away, are ignored, or are removed from the situation. These lessons usually require one-on-one training sessions before they will work in a group setting. Recognize how the dogs rank each other and obey this ranking by petting and feeding the top dog first then go down the line. Do give each dog the same amount of food and attention, just make sure that you treat the dominant dogs first to avoid fights.
In addition to good training there must be enough of everything so that no dog feels left out. Each dog needs his own food bowl, own bed, own toys, own leash, and enough space that he doesn't have to defend his things from the others. It's also important to exercise each one every day. Dogs are made to be active, and a good hour long walk daily will go a long way toward relieving tension. A tired dog is a well behaved dog!
If the dogs do get into an all-out brawl, never try to reach in with your hands and separate them. This is a good way to get badly bitten, because they are too upset to recognize that you are there until too late! Instead, try to lasso them, herd them into separate areas with brooms or rakes, or turn a hose on their faces. They might injure each other, but that is better than you having to get stitches. Fighting is less likely if all the animals are spayed, neutered, about the same age and size, and healthy. A painful or older animal is often crabby and likely to start mix-ups. Some animals absolutely refuse to get along. In this case, it is better to re-home the younger one unless he is just plain mean. A younger dog can deal with life changes more easily.
Finally, think about the cost of keeping more animals. Food, water, shelter and toys are obvious. But those dogs will also need monthly heartworm and deworming medicines. They will need yearly health examinations and vaccinations. And eventually they will all get sick, some will get injured, and they will age, needing medical care that can be very costly. Its important to be aware of the costs involved in keeping a dog healthy. If you cannot afford medical care or pet insurance for one, then it is not fair to him or any other pet to get another.
So, think before you pick up that cute stray at the park! If you have extra energy and love to give, are committed to spending time and energy with each pet every day, have the financial means, and have enough space, keeping several dogs can enrich your life and theirs.