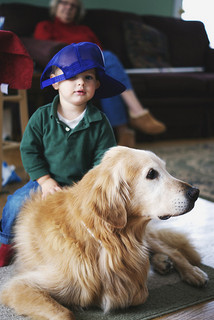 We have all heard the stories. A friend hates dogs because he was bitten as a child. Dogs have eaten unattended babies. A pack of dogs killed a child on the street. We dog owners know and love our pets, so we cannot imagine such a thing happening! But where does the truth lie?
Are dogs really dangerous to our kids?
The statistics are a bit scary: every year about 441,200 American children need medical attention for dog bites (CDC website, 2012). Wow! Also, children living with dogs are much more likely to be chomped. That doesn't seem very safe, but there is good news. If you choose and train your pet well, "dog-proof" your kids, and watch them with the dogs, you can greatly reduce your chances of ending up in the emergency room.
First, no matter what breed or size, all dogs will use teeth in the right conditions. They bite if they are afraid, surprised, in pain, or sick. They snap when guarding food, a special chair, their yard, a favorite person, or their puppies. They also nip if another animal upsets them, they have sexual issues, or they aren't used to children. Staying away from dogs in these situations will lessen the chances of being bitten.
How do you select the right pet for your family?
The best way is to research child-friendly breeds then work with your veterinarian and local shelter or breeder to choose a pup with the right personality. Once you have one in mind, spend some time with him and watch him play with your kids before you get him. If your kid is afraid or the dog isn't submissive and playful with him, he isn't the right dog for you.
Once home there are lots of things you can do to reduce biting tendencies. Be sure to neuter or spay him/her. Don't play tug of war, snapping, chasing, or wrestling games because these encourage him to be feisty. Teach him it's never okay to snap at or put his teeth on you. He should learn quiet manners like sitting to ask for petting or playtime. Your veterinarian may help you teach him to tolerate gentle tail, leg, and ear pulling and accept hands in his mouth. The vet can also help you figure out what to do if he shows any aggression.
It is as important to teach your child how to act around dogs as to teach the dog how to behave! He should never go up to a dog he doesn't know, and if one comes to him he should stand very still without looking it in the eye. A friendly dog will have a happy open 'grin', wag its tail, run up to be petted, and be playful. Before petting a dog have him always offer a hand to sniff by holding it out at or below nose level. A child shouldn't run from a dog or scream, that excites 'kill it, it must be food!' instincts! If a dog knocks your little one over, tell him to roll up in a ball and lie very still. Make sure your kid never plays with any dog without adults watching and never leave a young child alone in a room with a dog.
If all else fails and your child does get bitten, he needs to tell an adult right away. Most bites need disinfecting, and he might need a tetanus shot or antibiotics. In the US, dog bites must be reported and the animal kept up for ten days. If the animal is a stray or hasn't had his yearly rabies vaccine, the child may need rabies shots to be protected.
Owning dogs helps children learn respect for living things and how to play with others. Dogs are loyal, trusting, open companions that enrich their lives in countless ways. Some kids feel closer to their dogs than to any human playmate! So despite the risks, it's worth keeping dogs as pets in our homes. We just need to do a little work to assure that nobody ends up with wounded feelings or fingers!