Bringing a new puppy into your home is an exciting time for the whole family. Everyone is anxious to play with the new addition and puppies are just so cute that it is easy to get caught up in the moment. However, it will make your life easier if you begin to train your puppy from day one of his arrival. A well trained pet is more enjoyable for everyone.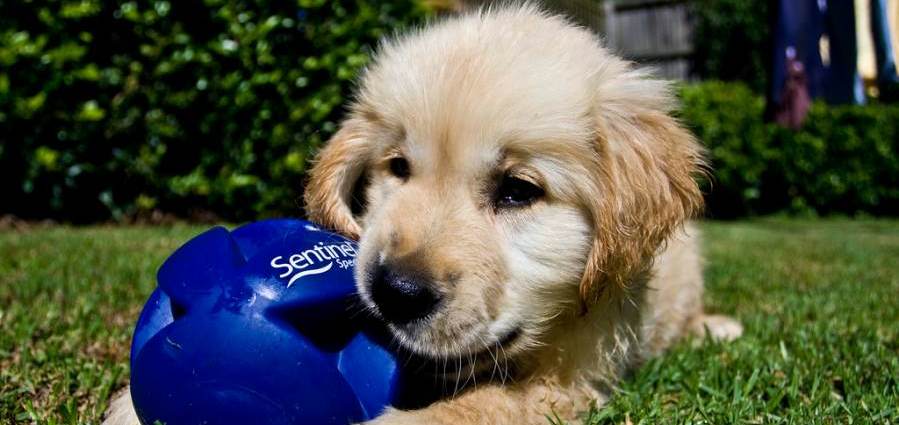 #1 – Start Immediately
Puppies often go to their new homes between seven and eight weeks of age. While older is fine, younger is not. They learn a lot from their siblings in those final weeks and it is an important aspect of your dog's canine social skills development. Puppies removed from their siblings too soon are more likely to have issues interacting with other dogs. By seven weeks of age, your dog is more than capable of learning basic commands and behavioral expectations. So, there is no reason not to start at day one of his arrival.
#2 – Be Consistent
Your pet cannot distinguish between work clothes and your jeans. If you don't want him jumping up on you when you're dressed up. Don't let him jump up on you when you are wearing old clothes. Consistency will help your puppy learn what is expected of him much more quickly. Everyone in the household needs to agree to the same rules. It is confusing for him if you won't let him up on the furniture but the kids do. Deciding the rules in advance of your new dog's arrival will make things easier for both of you.
#3 – Crate Train Your Puppy
Training your puppy using a kennel or crate is an excellent way to make housetraining fast and easy. It is not cruel and it is a great way to ensure your pet's safety in your absence. A crated puppy cannot get into dangerous household chemicals in cupboards, chew furniture or electrical wires. Most dogs come to love their crate and will sleep in it even when the door is open. It becomes the equivalent of their own room. In households with young children, it can also be a place to get away from the hustle and bustle when your pet needs a break.
#4 – Hang Bells At the Door to the Yard
Always start training your puppy to go outside to eliminate from the day he arrives. When bringing him out to do his business, he should be on leash. As you exit the door gently ring the bells with his nose or paw. This will build an association between the door opening and the bells ringing. It becomes a way for him to signal you that he needs to go out to potty and it's a signal you can hear easily even if you are in another room.
#5 – Teach Him an Elimination Command
Associating a command with the act of elimination can make traveling with your dog much easier. Some pets are reluctant to potty away from home or in unfamiliar locations. Having a command that you can give, let's your dog know that it is okay to potty at the current location. Otherwise, some pets will hold it and hold it until they can't anymore and then have an accident.
#6 – Keep Training Sessions Short
Puppies, like children, can have very short attention spans and are easily distracted. By limiting training sessions to ten to fifteen minutes, you keep them short enough to hold his attention and keep him focussed on the task at hand. It is better to do frequent, short sessions than to do a single long session.
#7 – Use Positive Training Methods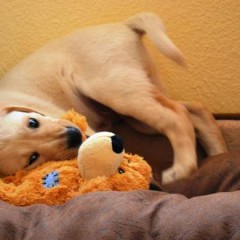 The phrase 'you catch more flies with honey than vinegar' is not an accident. Most dogs will respond much better to positive training methods that being tugged on, choked, or forced to do things. The concept of alpha rolls and other punitive physical measures can exasperate underlying issues and create the very problem you seek to avoid. Find what motivates your dog. It isn't always food. Different dogs respond best to different things. Positive training methods get faster results and, done properly, do not confuse your puppy about what you want from him.
#8 – Vary Your Rewards
Do not always use food as your reward. Your dog appreciates many things and while food can be a good motivator, there are other things that will work as well. Try ear rubs, games of fetch and tug, lots of verbal praise and patting. Not knowing what type of reward will be offered makes your pup less likely to ignore you if you don't have food with you. In an emergency, you may not have a pocket full of treats but you still need your dog to listen and obey.
#9 – Keep Calm
Losing your temper never helps in a training situation. At best, it confuses and upsets your dog and at worst, he draws conclusions from it that are totally erroneous and make training more difficult. If you feel that you are getting frustrated, go back to something that you know your puppy understands. Have him perform the command correctly, praise and reward him, and end the session on a positive note.
#10 – Take Your Dog to an Obedience Class
You can teach your dog many basic commands at home and there is no reason you shouldn't but there are benefits to taking classes too. A class, particularly one geared towards puppies, offers lots of socialization opportunities. It's a chance to get a third parties opinion on any bad habits you may be developing without even realizing it. It's also a place with lots of distractions that tests the work you and your dog have done at home. It's a good bonding experience as well so don't discount taking a class even if you know how to train your puppy.