It is a myth that cats and dogs cannot cohabitate in the same household, or even, in fact, become friends. However this is going to take a lot of patience and understanding, along with time and training on both the cat and the dog's part. To make the transition of introducing a new dog to your cat, we have put together some helpful tips to make the process go as smoothly as possible.
Play, Prey or Avoid?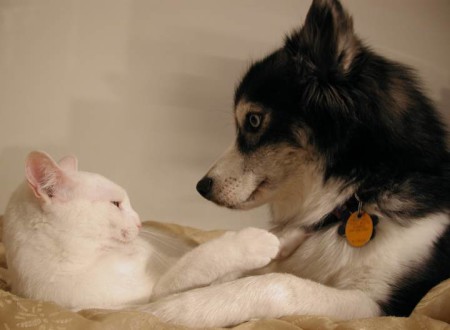 Dogs usually react to cats in one of three ways; play, prey or avoid. This can be dependant on the breed, size, age and past experience with cats, so it is very important to know (or at least anticipate) how your new canine is going to react to the first meeting.
Play: A puppy coming from a litter may want to play with a cat as though it is one of its siblings. This can spell disaster to a cat that have never met one of these energizer-pups, so you will want to take the introductions slowly and safely (we will discuss tips later).
Prey: Older dogs may view cats as something to chase and even harm. This type of behavior is going to take a lot of time to curb in your dog, after all, its going against its natural instincts. Hunting dogs like beagles, hounds or large breeds like German shepherds may be harder to bring into a cat-home.
Avoid: Dogs that are timid or have had previous bad encounters with the feline species, may just want to avoid contact with these clawed-beings altogether. Take your time with the introductions to minimize the stress on both parts.
Cat-atude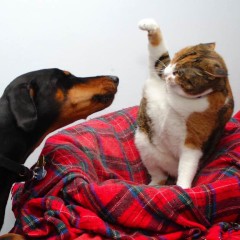 Cats are not social creatures by nature and, in fact, prefer to live a solitary life. So when you bring in a new creature (whether it be dog or another cat) your feline may view it as a threat to its territory. Generally cats will react to a dog in a few different ways; cautious interest, avoidance, or defensive antagonism.
Cautious Interest: Confident and young cats or ones that live in a multi-cat home may accept the presence of a dog better than those who haven't. These cats can be interested in this new species and watch from a distance or even approach them.
Avoidance: This cat simply wants to stay away and avoid the dog altogether. This cat will most likely run and hide until it feels safe to return.
Defensive Antagonism: This type of cat may swat, scratch, bite and rear up into a dog's face. Use every precaution when dealing with this type of cat-atude.
Proceed with Patience and Praise
You will want the first meeting between your cat and new dog to be as positive as possible. For this to happen you should have the dog well under control. If it is a puppy, be sure to tire it out some before bringing it in to meet the cat. If the dog is older and already knows the basic commands of 'sit' and 'stay' then be sure to invoke these. In addition, be sure to have the dog on a leash, just in case things don't go as well as you may have hoped. And remember to always praise good behavior for both dog and cat.
If it's possible, it is best to keep the cat and dog separate in the beginning. You can do this by using a separate room, or with a baby gate. Animals are naturally curious and will check each other out, either through scent at the closed door or by sight through the gate – this is safe for both animals and will save scratched noses or accidental nips. If your cat seems okay with this introduction, you can slowly proceed by letting them explore each as you hold the dog, if not, you can try letting the animals eat next to each other, but still through the barrier.
Another great tip is to scent swap. This involves taking a toy or blanket from each pet and placing them in the opposite rooms. This gives your animals a chance to get to know the other's scent before an actual introduction is made.
If you don't already, make sure your cat has a high place to get away from the new puppy. This can be done with scratch posts, high ledges, book shelves etc. This vantage point makes the cat feel safe and superior to this new "house guest."
Take the process slowly and always praise both your cat and new dog for good behavior (not swatting, chasing, barking at or nipping). It is also helpful to have both your cat and new puppy's favorite treats on hand to use as a reward system for being well behaved.
It may take some time (or it could happen quickly) but either way, with patience and plenty of praise you can have two companions that will love each other for the rest of their lives…or at the very least, learn to live with one another.