Is a barking dog driving you dotty? If so read on to improve things in a positive way.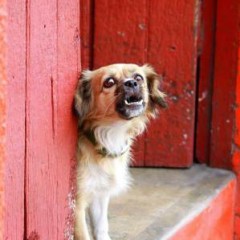 Dogs bark, it is how they communicate and make their feelings known. Excessive barking can easily drive us to distraction though and the most natural thing we do, as humans, is shout at them to stop. But, and you probably already know this, hollering will never work long term because the dog just thinks you are joining in. In turn he will bark louder and before you know it, you are shouting louder, suddenly everyone involved is stressed and excited. Not the result you were hoping for.
So let us use the methods of positive reinforcement and extinction to change your dog's behavior forever.
Positive reinforcement = reinforcing a behavior that you want the dog to repeat.
Extinction = ignoring a behavior which you would like the dog to stop doing. The effects of this are impressive as the dog learns quickly that the behavior is no longer getting him any attention. This withdrawn attention can cause something called an extinction burst, where the behavior gets briefly worse before it gets better. It will get better though if it is continually ignored.
One lesson to learn about dog behavior is that they find attention, no matter what kind of attention it is, rewarding. So take a look at yourself and your reaction to the barking beast in your life. Are you inadvertently reinforcing your dog's behavior with your own reaction? If so then you need to bring extinction into action.
Changing a dog's unhelpful behavior should start with observation which should never, ever, be missed out because the dog's welfare could be at risk.
Observation and Questioning
The first thing to do when wanting to change any dog behavior is to work out why it is occurring. A dog may be barking because he is unhappy, or his needs are not being met, for any of the following reasons;
Fear
Physical discomfort such as he is too hot or cold
Loneliness
Lack of sufficient exercise
Pain
Frustration
If you think that your dog is barking for any of the reasons above then it is important to address the reason with action rather than just try to train the dog, after all you want your dog to actually be happy, rather than just behave that way, don't you? If none of the above is relevant then barking may just be a habit and in that case it is time to put positive dog training to use.
When your dog barks he is likely to be reaction to a particular stimulus. Whether it is other dogs, the mailman or he is demanding attention from you or other people, each barking session will be a reaction to an action. When you have worked out the stimulus you can be prepared to put your training into action.
Teach your Dog to Bark
This may seem odd but by teaching your dog to bark on cue you can then teach him to stop. So to do this have a handful of tiny treats, the smaller each reward is then the more they will motivate your dog. Then show your dog a treat and watch as he decides how to get it. If your dog is a demand barker then he will become noisy quickly if not it may take a while. Either way the second he makes a sound give him a treat and say the word 'speak'.
Repeat this until you can say 'speak' and your dog barks on command. Then practice in a variety of situations.
Quietly does it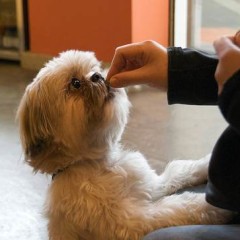 This is where the magic happens. As your dog is barking on command wait for a natural pause and say the word 'quiet' then quickly reward the dog. Do this until you can say the word and in return your dog will stop barking. With practice you will get to the point where the moment your dog barks you can say the word 'quiet' and instead of continuing to bark he will come to you, quietly, for a reward.
Real Life Practice
Teaching your dog to bark and cease barking on command will take a few sessions, exactly how long depends on the individual dog. In between sessions and before the training is achieved though it is extremely important to make the most of any barking behavior. Look out for a stimulus and when the dog barks reinforce it with the word 'speak' and reward him. When he naturally pauses reinforce it with the word 'quiet' and reward. As an extra bonus doing it this way is gradually tricking your dog into believing you are in charge of his actions, he will soon start to believe it.
If the above is not possible just ignore the barking altogether, like it is not happening. It is important to do this because by returning to previous shouting you will simply acknowledge the noise and you will still be reinforcing the behavior with attention. So this is exactly why you need to either use the behavior to benefit your training or pretend it is not happening at all.
That's all for now but happy dog training, and remember stick to positive dog training each and every time, and your dog's behavior will improve. Your mutual relationship and understanding will be better than ever. I promise.