It's what we fall in love with – the exuberance and happy-go-lucky attitude of man's best friend – that is until our canine companion turns into an arm-yanking, pulling-machine, then this well-meaning enthusiasm can become annoying (and painful). So what can you do to curb this behaviour? Read on to discover some valuable tips on teaching your dog manners on the leash.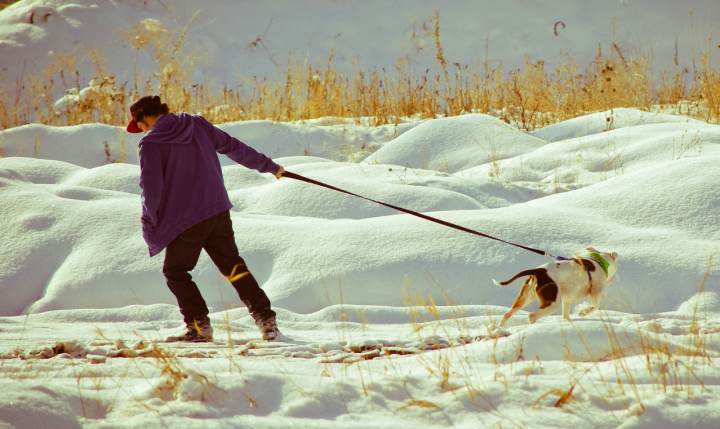 Getting Started
Before you can start to train your dog not to pull, consider the equipment you will need. Of course, a collar and a leash are the basics, but be sure these properly fit your puppy or dog. The collar should be snug, but not too tight to cause discomfort. A good rule-of-thumb is to slip your two fingers under the collar. There should be room enough to get your fingers under without tugging or forcing on the collar. The leash should be strong enough to support your dog's size and weight and be around 2 to 3 feet long – too much lease will make it difficult to control your dog's pulling. In addition, be sure to carry some treats to reward your dog for good leash manners. These should be soft chews around the size of a peanut – quick snacks are eaten faster and won't distract from your training.
If you are starting out with a puppy or an older dog that has never been on a leash before, you will need to take the process slow. Let the dog get use to wearing a collar first. If it is scratching at it or making a fuss, distract the dog with play and praise. Once they are comfortable wearing a collar, attach the leash – be sure to do this indoors or in a controlled environment – some dogs may stress over wearing a leash so you don't want them to get away from you. Once again invoke play and praise while your pup walks and runs around with the leash on.
Pre-Walk Behavior
If you have a highly excitable dog then make sure you give it a good play, before you try to teach leash manners. Tiring the puppy out a bit will keep it calmer and more focused. If you have a dog that goes absolutely bananas for walks and is circling, jumping and barking at the door, you will need to curb this habit as well. The best thing to do is to stand still and wait for your dog to calm down. Once all its feet are on the floor, calmly attach its leash. If it reacts again with over-exuberance, then repeat the stand still and wait process.
Catching and Praising Good Leash Manners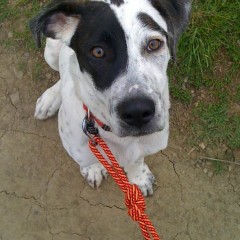 As with any other training, it is important to reward your dog for its good actions or not pulling on the lead. Never shout at or scold a dog when their behaviour is not what you want. This creates fear and mistrust in your dog and won't help in any training process.
Once you have your dog calmly on the lead start out with short training sessions. Walk at a brisk pace, as this leaves less time for your dog to catch a smell or to get distracted. As you walk along, be sure to catch the moments when the lead goes slack. When this happens praise your dog and give him a treat. If your dog starts to pull or run ahead, stand still until it figures out you will not be dragged along. When the leash goes slack, once again praise and reward. You may have to do this through several teaching lessons. And remember do not give in to the pulling action. Like kids, dogs will test their limits and will come to know when you will finally give in.
The Persistent Puller
There may be times (and dogs) that insist on pulling no matter what you do (or how much they end up gagging themselves). These persistent pullers will require more time and patience; however, there is a trick you can try. When your dog is pulling and dancing on the end of the lead, simply turn your back, without saying a word, and continue at a normal pace in the opposite direction. Hold onto the leash firmly and continue on until your dog realizes you aren't giving in, and in fact, you are doing the opposite of what he wants. When he catches up reward him with happy praise and a treat. Dogs are natural people-pleasers, so lots of praise and tasty treats go a long way in modifying and training new behaviours in (and out of) your pet.
Taking your dog for a walk doesn't have to be a lesson in frustration and dislocated shoulders. By applying these simple techniques and training methods along with patience, persistence, praise and rewards, you can have the picture-perfect walking partner you always dreamed of.