We have probably all heard the horror stories of flying with a pet; the hellish travel in dark cargo-holds and the fear this creates in a crated animal, lost pets and even some suffering from long-term conditions or even death. Although these incidents can occur, sometimes the circumstances leave us with no other choice, other than to pack up our pet and hope for the best. If you have to travel by air with your beloved pet, then check out these travelling tips to ensure you both have a safe trip.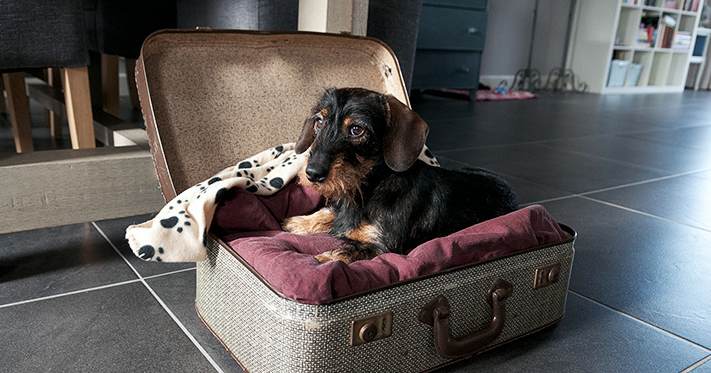 Check Out Individual Airlines
Each airline has a policy on pets and where and how they must travel. Before you book a flight on any airplane, make sure you know what their policy is on animals. Most airlines will let you travel with animals, but they will fall under one of two categories; carry on or cargo.
Carry On
Carry on is the best possible way to travel with an animal. This policy allows you to bring your pet on board the plane with you. However, the animals have to be small enough to fit under a standard airplane seat in a kennel. If you can make this work, it is far better for the animal; it not only has you there, but the cabin pressure is equalized inside the airplane.
Cargo
Unless you have a very small dog or a cat, most animals will find themselves in the cargo hold of the airplane. This is not only terrifying for the animal, but the conditions under the plane are not the best. Here the animal will experience extreme noise and pressure changes, along with extreme climate changes. In fact, some airlines will only allow animals to be shipped at certain times of the year. In addition to rotten travelling conditions in cargo, you also run the risk of your pet getting lost in the loading and unloading process.
Things To Know
Before you show up at the airport with your pet in tow, be sure you have purchased a regulation kennel – these are different from normal kennels. Airline crates are made from high-density plastic and should be big enough for your pet to stand up, turn around and lie back down. Also be sure to affix the "Live Animal" sticker clearly on top to remind the staff that they are dealing with an animal and not just another piece of luggage.
When you book the flight, be sure to get all the particles you need in order to ensure a safe trip for your pet. Also try to get a direct flight to your destination. The more connections you have, the more chances you run of your pet getting lost.
You will also have to have your pet checked over by a veterinarian no more than 10 days before you plan to travel. It will have to have all its shots up-to-date and a clear bill of health before the airline will accept it onboard. Be sure to affix the health certificate to the outside of the crate in clear packing tape to avoid any delays or confusion.
Air Travel Tips for Your Pet
To make the flight as easy as possible, here are some tips to help you prepare your pet for the flight.
Empty stomachs fly better: Be sure to let your pet fast from food for 12 hours before the flight. This will reduce the chances of it getting airsick.
Provide Water: Having water available for your pet is a must for long flights. This can be done by attaching a water bottle to the inside of the crate. Another option is to freeze water directly into the snap-on bowl that came with the carrier. Before the flight, attached the bowl with the ice in it. This will slowly melt and assure that your dog has a way to hydrate.
Prepare for Accidents: Line the crate with newspaper or shredded paper, just in case your dog has a mishap.
ID Information: Be sure to include the name, address and phone number of the person picking up your pet, as well as your emergency contact information. This should be clearly marked on the crate. In addition, your pet should be wearing an identification tag with its name and information on it.
Call Ahead: Be sure to let the person know that your pet is on its way, so they will be there to pick it up at the other end. Nothing would be worse than having your animal sitting around in a strange airport waiting to be claimed.
What to Avoid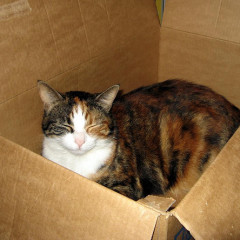 Most veterinarians DO NOT recommend tranquilizing your pet before a flight. A dopey pet is unable to hold its balance which puts it at risk of injury when a crate is being shuffled around. In addition, animals in a cargo hold undergo pressure and altitude changes, being sedated could lead your pet to having respiratory or heart problems during the flight. If you absolutely must sedate your pet, be sure to discuss all the options and side effects with your veterinarian prior to the trip.
Air travel with your pet can be scary, but it doesn't have to be impossible. Take time prior to the trip to prepare yourself and your animal. Check out the airlines and get what you need for your pet to have a safe and healthy ride. Remember an ounce of prevention can save both you and your beloved animal a lot of heartache…