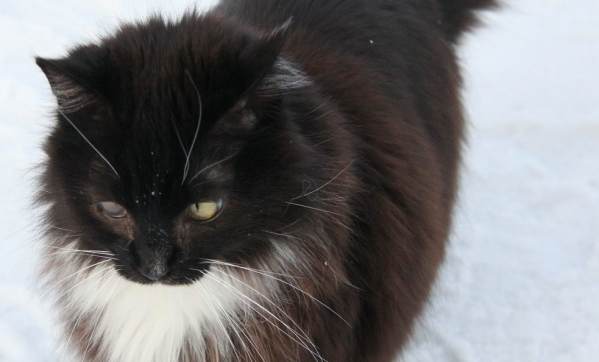 My name:
Arwen
Breed:
Norwegian Forest Cat Mix
Age:
About me:
Arwen is…just plain adorable. Being the youngest in a colony of five cats has taught her one thing: diplomacy and cuteness will get you just about anything.
Arwen is semi-longhaired – and likely a Norwegian Forest cat mix -black with white chin and neck, white toes on the front paws and long white stockings on the back paws. Her tail is this big plume with black and white mixed in together. She also has a damaged eye which has been operated, and is healing. When she was younger she had a serious eye-infection that urged Mother Nature to put her third eyelid over her eye to protect it. Unfortunately, it grew stuck that way, so the doctor at the animal clinic where I work had to open the eye up again. Now a beautiful green-yellow eye is peeking through.
Since she was hand raised by me since she was four weeks young, she sees me as her mom, and that makes for one of the most beautiful bonds possible between felines and humans.
She was brought to me in april 2005. Near death and incredibly ill, the vet didn't expect her or her brothers to make it. Who knew that she and her brothers would not only have the strength, but also the complete trust and love in their hearts to make it through.
My gallery: